Stromal vascular fraction or SVF cells is a medical term that describes a heterogeneous kind of cell that are typically found in adipose "fat" tissue. SVF cells are not the same as "stem cells" and are generally used for cosmetic purposes. These types of cells constitute about 2/3rd of all cells in the human body.
SVF and Fat Stem Cells
The remaining cells are called adipocytes.(16252840) SVF Cells are complex cellular products that are made from fat. SVF cell family is quite diverse and contains dozens of types of cells,cytokines and growth factors.  Stromal-vascular fraction or SVF cells include: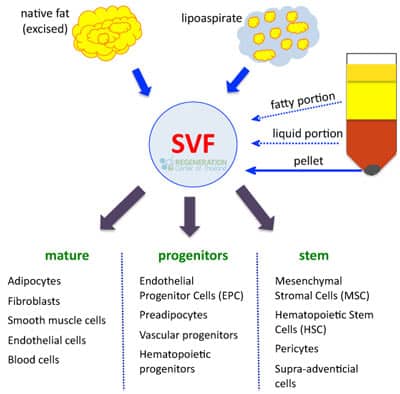 At the Regeneration center of Thailand, Adipose derived SVF cells acquired through adipose tissue are mainly used in cosmetic stem cell applications such as stem cell breast or stem cell facelifts. There are also several studies and clinical trials underway to understand the use of SVF cells in regenerative medicine for conditions such as peripheral neuropathy, brain strokes, knee injuries, orthopaedic sport injuries,diabetes and arthritis.(23844362) SVF and Stromal cells have demonstrated anti-inflammatory effects even using non-expanded cells.(23271558)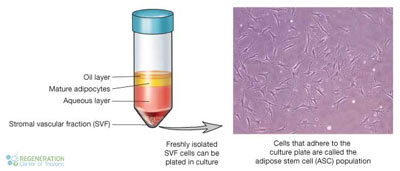 To learn more about Stromal Vascular Fraction Cells or if you have any other questions please contact us today.
Published Clinical Citations