Ataxia occurs through a disruption in bodies equilibrium, neurotransmitters, and cell signaling capacity brought about primarily through a lesion in the frontal lobe.
What is Ataxia?
Friedreich's ataxia sclerosis is another type of Ataxia but Friedreich's is basically hereditary. Lesions similar to those found in multiple Sclerosis and strokes can be found from the lateral and dorsal columns from the spine. The lesions generally start during childhood are accompanied by speech impairment, ataxia, scoliosis, peculiar movements, frequent hypertrophic cardiomyopathy, and even paralysis.[1]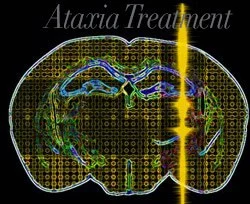 Motor ataxia is the inability to manage the coordination of the muscles. Sensory ataxia is called such because of the proprioceptive area between the peripheral nerves and the motor cortex is lost. This loss results in uncoordinated movements, that becomes more apparent when an individual's eyes are closed.
Ataxia-telangiectasia is a serious progressive form of cerebellar ataxia, that is related to abnormal eye movements, oculocutaneous telangiectasia, immunodeficiency, and sinopulmonary disease.[2]
Stem Cell Therapy for Spinocerebellar Ataxia
Neural Cell Treatment for Ataxia and Autoimmune cerebellar ataxia offers a promising treatment for those seeing the ability to repair/reverse loss of motor neuron related brain damage. Stem cells are essentially un-specialized cells that can be differentiated into any type of cell or tissue in the human body. Stem cells are unique since they can reproduce themselves and divide indefinitely.[3] Adult stem cells are able to also create specialized cells such as:

The ability to make new cells and tissues in the body indicates clearly that adult stem cells can be used to replace diseased and damaged body tissues, organs, and lesions for the treatment of Ataxia with Stem Cells. Learn more about stem cells. Ataxia therapy with stem cells is non-invasive (No Surgery) and permanent.[4]
Our Ataxia protocol seeks to repair damaged and/or diseased tissues brought about by injuries or even hereditary such as Spinal muscular atrophy.
TREATMENT PRECAUTIONS & RISKS
Please Note that not all patients Qualify for treatment of Degenerative Neurological conditions such as ATAXIA.
Learn bout brain healthy foods here
. Patients with late stage, severe
supplement brain fog
, multiple underlying health conditions or travel limitations to Bangkok may not be good candidates for the estimated 2 week treatment protocol.
Treating Sporadic Spinocerebellar Ataxia

Number of Stem Cell Infusions for Ataxia: Will depend on the patient needs
Type of Cellular Infusions for Ataxia: 
Enhanced Mesenchymal (MSC+) Stem cells that are expanded & delivered over a series.  Delivery of cells, exosomes, and cytokines are done through Intravenous (IV), Intrathecally or via a lumbar puncture.
Rehabilitation Treatment for Ataxia: Rehabilitation therapy is optional and can be performed 2-4 hours per day up to 6 days per week. Medical visas and accommodations packages for an extended stay can also be included at an additional cost.
Ataxia Treatment Guidelines for 2023
Neural cell treatment for Ataxia will require a minimum of 2-3 Weeks in Bangkok. Due to varying stages of the disease, our medical team will need to evaluate all potential patients prior to medical recommendations. To begin the qualification process for our multi-stage treatment protocol please contact us today.
Published Clinical Citations
[1] ^ Boonkongchuen, Pairoj, Sunsanee Pongpakdee, Panitha Jindahra, Chutima Papsing, Powpong Peerapatmongkol, Suppachok Wetchaphanphesat, Supachai Paiboonpol, et al. 2014. Clinical analysis of adult-onset spinocerebellar ataxias in Thailand. BMC neurology (April 5). doi:10.1186/1471-2377-14-75. https://www.ncbi.nlm.nih.gov/pubmed/24708620
[2] ^ Carlessi, Luigi, Elena Fusar Poli, and Domenico Delia. 2013. Brain and induced pluripotent stem cell-derived neural stem cells as an in vitro model of neurodegeneration in ataxia-telangiectasia. Experimental biology and medicine (Maywood, N.J.), no. 3. doi:10.1177/1535370213480703. https://www.ncbi.nlm.nih.gov/pubmed/23598976
[3] ^ Lolekha, Praween, and Kammant Phanthumchinda. 2009. Miller-Fisher syndrome at King Chulalongkorn Memorial Hospital. Journal of the Medical Association of Thailand = Chotmaihet thangphaet, no. 4. https://www.ncbi.nlm.nih.gov/pubmed/19374296
[4] ^ Sutamnartpong, Panee, Sombat Muengtaweepongsa, and Kongkiat Kulkantrakorn. 2013. Wernicke's encephalopathy and central pontine myelinolysis in hyperemesis gravidarum. Journal of neurosciences in rural practice, no. 1. doi:10.4103/0976-3147.105608. https://www.ncbi.nlm.nih.gov/pubmed/23546346
Page last updated on 03 August 2023 | Topic last reviewed: 14 April 2022