In treating diseases such as lung cancer, it is essential to consider all your choices. Information about the treatment protocol, oncology treatment center or facility, as well as the doctors and resident physicians. The Regeneration center has helped many lung cancer patients by using personalized and safe cancer immunotherapies that are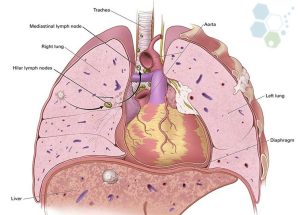 explicitly tailored based the type and stage of lung cancer that you or a loved one may have including Non-small cell lung cancer (NSCLC) and Small cell lung cancer (SCLC).
Our Functional medical oncology programs offer several treatment solutions using standard cancer treatment techniques such as:
Chemotherapy
Surgical Resection
Radiation therapy
HSC+ T lymphocytes Cells for Biphasic Mesothelioma
Oncolytic virotherapy
Cellular Immunotherapy for Lungs
Alternative Treatment for Lung Carcinoma
We also offer the latest in Alternative Non-Invasive Lung cancer therapies, including:
High-Intensity Focused Ultrasounds or HIFU
Photodynamic Cancer Therapy
Modified T-Cell Therapy
Stem Cell and Dendritic Cell Therapy
Cyberknife and Cryosurgery
Electrocautery
Internal Radiation Therapy
Modified T & Dendritic Cell Therapy
Complementary & Alternative Treatment for Lung Cancers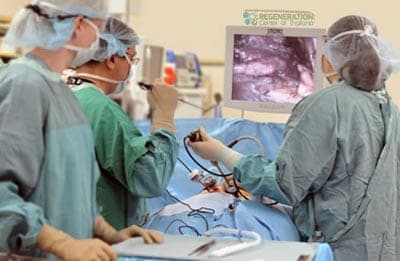 Our oncology team is based in Bangkok and offers the latest innovations for the treatment of lung cancer. Small Cell Lung cancer is the leading cause of death in Thailand and also in many other countries around the world and is plaguing millions of people each year. Our treatment measures have proven our ability to induce remission of the disease and halting any further spreading through our advanced lung cancer treatment procedures such as HIFU, Cyberknife, chemotherapy, radiotherapy or minimally invasive surgery without the need of risky lung transplants.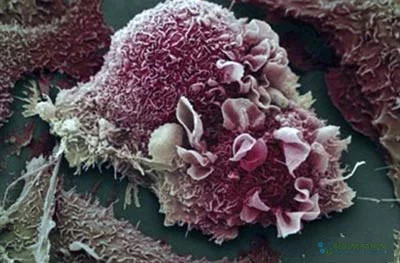 T lymphocyte immunotherapy is not appropriate for all stages and can be used to treated subcutaneous and lung tumors using modified immune cell therapy. Our treatment protocol works by isolating and expanding immune cells to target the metabolic disorder and slow down further cell proliferation. This action subsequently inhibits the rapid rate of tumor growth [1]. The underlying model of action for the treatment can be attributed mainly to the results of angiogenesis (creation of new blood cells/vessels).
CAR-T cell therapy for lung cancer
Current gene therapies plus regenerative therapies are combined with HSC+ cells and used to treat respiratory conditions such as COPD, emphysema, liver disease, Idiopathic Pulmonary Fibrosis, and pancreatitis. Mesenchymal and dendritic cells can be used in conjunction with traditional radiotherapy, and chemotherapy treatments have proven to help promotes the rapid restoration of the patients' peripheral blood parameters after irradiation and chemotherapy alternatives for patients with kidney cancer. [2]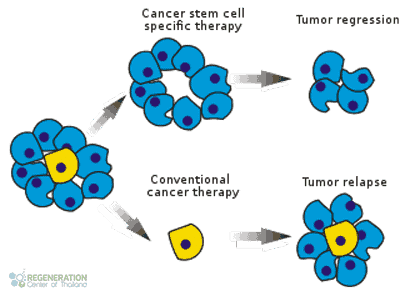 Recovery does take time, but patients have been shown to make great physical improvements in overall body function and using cells from the patient also help to prevent the severe complications and side effects associated with irradiation with an improved quality of life.[3]
Cancer research programs at Chulaborn Hospital and Queen Sirikit Cancer Center have been recognized worldwide as we aim toward maximizing lung function despite the aggressive nature of the disease.[4] With that, our deeper purpose is to slowly reach that point wherein certain death is not imminent as it used to be in the past for cancer patients. We believe that through our research and technology initiatives, advanced treatments for stage 4 pancreatic cancer, colon cancer and late-stage prostate cancer has become a reality.[5]
Stem Cell Treatment for Lung Cancer in 2023
Our goal is to guide you every step of the way. Our medical team will examine your needs thoroughly to determine the ideal protocol. Regeneration center cancer protocols are based on proven clinical trial results and offer a comprehensive cancer treatment program will be designed specifically for targeting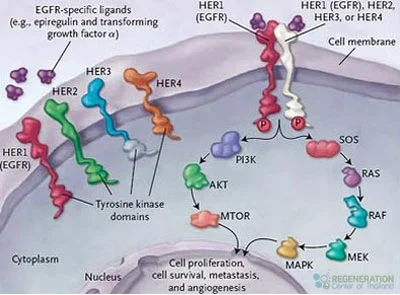 specific lymph nodes and malignancies with the least side effects. Cancer treatments in Thailand are customized to the needs of the patient without chemotherapy drugs or radiation therapies. Our doctors must take into consideration other outside factors such as the patient's underlying medical conditions and past medical history.
Our goal is to provide you with advanced and customized treatment by making use of our doctors' intense training and international expertise, as well as our state-of-the-art medical facilities. Together, we will work toward that stage of remission where you may be safely declared cancer-free without any further chances for remission. It is of utmost importance to us that we provide you with a sensible treatment plan that can help eradicate the disease without any complications or without having to compromise on lung function, as well as that of any adjacent internal organs.
TREATMENT PRECAUTIONS & RISKS
Please note Lung Cancer Immunotherapies &
T cell therapy
for lung and
liver cancers
are not appropriate for all types and stages. Immunotherapy,
mRNA vaccines
and hematological based
immunotherapies
may be limited for some cases, including
metastasized cancer to bone
. Late stage patients or patients unable to travel for the 3-6 week program might also not be an ideal candidate. Please contact us for more details.
 Lung Cancer Stage I-IV Treatment Guidelines – 2023
Our cancer stem cell treatment and research center continue to probe further than ever before. With discoveries in cell communications, clinical trials and methods of diagnosing and treating lung cancer, we firmly believe that we are well on our way to manage an otherwise fatal to allow our patients to finally live a cancer-free life without the constant fear of relapse.
To determine eligibility and get exact prices along with day by day treatment outline our oncologists will need to better understand the patient's existing needs via recent histological results, Biopsies, genetic tests, blood tests, x-rays, scans, bone marrow sample results, or clinical diagnosis from your oncologist.
If you or a loved one have been diagnosed with cancer, be aware of alternative medical solutions to fight cancer using HSC+ immune cells. Take the first step toward treatment by allowing your care to be handled by our team of experts in our advanced facility. We are here to help. To learn more about our safe and effective treatment options for lung cancer, please contact us today.
Published Clinical Citations
[1] ^ Mulvihill, Michael S, Johannes R Kratz, Patrick Pham, David M Jablons, and Biao He. 2012. The role of stem cells in airway repair: implications for the origins of lung cancer. Chinese journal of cancer, no. 2 (November 1). doi:10.5732/cjc.012.10097. https://www.ncbi.nlm.nih.gov/pubmed/23114089
[2] ^ Phunmanee, Anakapong, Kosin Wirasorn, Yupa Thavornpitak, Aumkhae Sookprasert, and Jarin Chindaprasirt. 2012. Lung cancer in hospitalized patients of Thailand. Journal of the Medical Association of Thailand = Chotmaihet thangphaet. https://www.ncbi.nlm.nih.gov/pubmed/23130455
[3] ^ Singh, Sandeep, Jose Trevino, Namrata Bora-Singhal, Domenico Coppola, Eric Haura, Soner Altiok, and Srikumar P Chellappan. 2012. EGFR/Src/Akt signaling modulates Sox2 expression and self-renewal of stem-like side-population cells in non-small cell lung cancer. Molecular cancer (September 25). doi:10.1186/1476-4598-11-73. https://www.ncbi.nlm.nih.gov/pubmed/23009336
[4] ^ Swangsilpa, Thiti, Pornpan Yongvithisatid, Kumutinee Pairat, Patchareporn Dechsupa, Mantana Dhanachai, Somjai Dangprasert, Ladawan Narkwong, et al. 2012. Preliminary experience of CyberKnife treatment of primary non-small cell lung cancer. Journal of the Medical Association of Thailand = Chotmaihet thangphaet, no. 10. https://www.ncbi.nlm.nih.gov/pubmed/23193750
[5] ^ Wang, Ping, Quanli Gao, Zhenhe Suo, Else Munthe, Steinar Solberg, Liwei Ma, Mengyu Wang, Nomdo Anton Christiaan Westerdaal, Gunnar Kvalheim, and Gustav Gaudernack. 2013. Identification and characterization of cells with cancer stem cell properties in human primary lung cancer cell lines. PloS one, no. 3 (March 4). doi:10.1371/journal.pone.0057020. https://www.ncbi.nlm.nih.gov/pubmed/23469181
Page last updated: 06 August 2023 | Topic last reviewed: 04 April 2023