UPDATED January 19, 2019 – ALS is short for Amyotrophic Lateral Sclerosis and is a terminal illness. Clinical trials and previous research in medical journals have shown that the typical life expectancy after diagnosis is three to approximately six years. The actual cause of ALS and Motor Neuron Disease varies from patient to patient, however it's widely believed that the underlying issue for a majority of patients can be traced to the dysfunction or misregulation of a vital neuroprotein known as TDP-43.(24995608)
ALS or Lou Gehrig's disease is a very aggressive neurological-degenerative disease that impacts the nerve cells within the brain and the spinal cord. In particular ALS refers to the degeneration of the motor neurons that reach out from the brain towards the spinal cord and then towards the muscles. ALS will cause the motor neurons to eventually die and with it the capability of the brain to instigate and manage the voluntary muscle movements similar to Parkinson's Disease and MS. This will eventually result in total paralyzation for the patient during the late stage of the illness.(1940701)
Common symptoms for patients suffering from ALS patients include:
Stiff finger joints
Uneven fine motor skills
Weakness in hands due to muscle atrophy
Problems with keeping head up
Problems keeping good posture
Weak muscles in feet, ankle or legs
Slurring of words during speech or trouble swallowing
Frequent muscle cramps
Random twitching of tongue, arms or shoulders
Trouble with respiratory system and breathing normally
 Breakthrough ALS with Stem Cell Therapy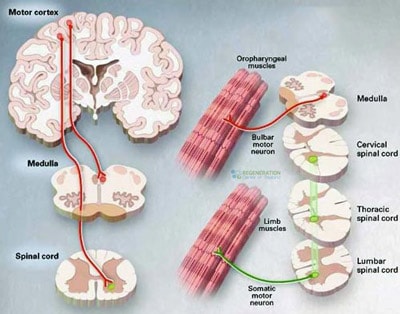 The Regeneration Center offers a very safe and effective functional medical treatment plans for complex neurodegenerative conditions such as MND & ALS along with other treatments for Brain Injuries , strokes and Alzheimer's all essentially focuses on stopping the spread and reduction of signs and symptoms of the illness. Brain Stem cells seek to slow down and reverse the consequences of ALS and restore the quality of life for the patient.(26558293)
TREATMENT PRECAUTION
Please Note That Not All Patients Qualify for Treatment of Degenerative Neurological conditions such as ALS. Patients with late stage, severe underlying conditions or travel restrictions may not qualify for the 2-3 week treatment protocol.

Our ALS treatment Requires 2-3 Weeks in Bangkok  and is split up into 3 Stages:
Stem cell collection ( Not Required For Allogeneic Transplants)
Stem cell testing, processing and expansion/culturing
Neural stem cell replacement transplants
Cell Collection
Due to the nature of the progressive neurodegenerative disease, Autologous stem cell therapy (cells from the patient fat,blood or bone marrow) are not recommended. Our center does not also use Embryonic stem cells or stem cells derived from animals ie "Live Cells". Our therapy uses only Human Neural Stem Cells that are isolated and expanded into glial restricted progenitors cells (GRP), oligodendrocyte progenitor cells (OPCs), astrocytes and neurons.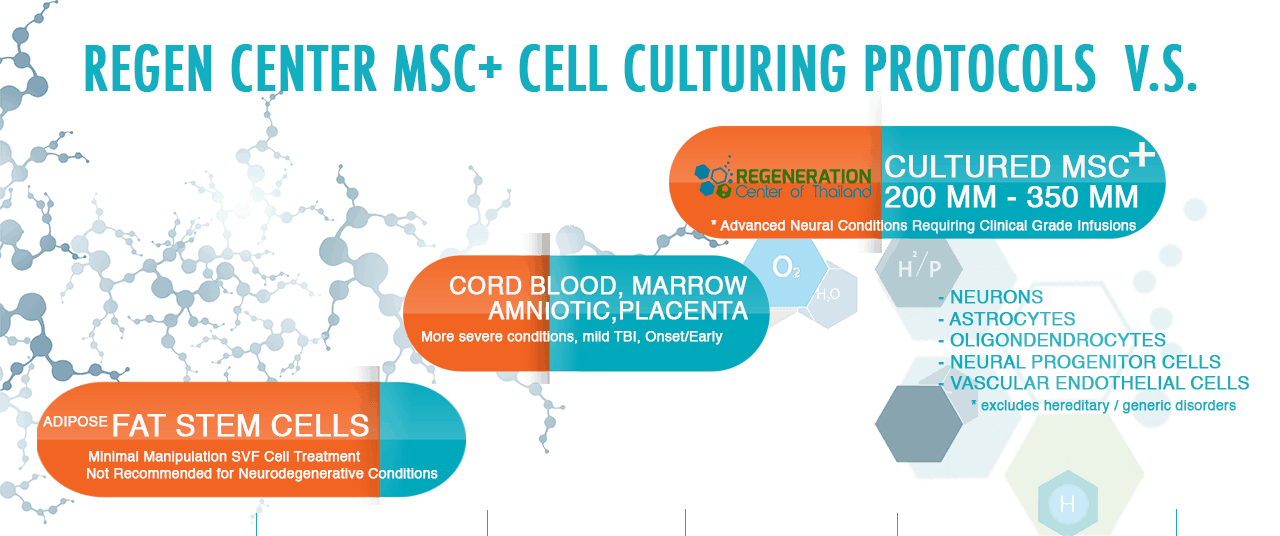 Cell Expansion with Neural Growth Factors
After collection the stem cells are concentrated then isolated to measure the overall quantity and quality of the collected stem cells. Only certain types of  activated stem cells have the capability to transform into the necessary types of cells. These activated stem cells are capable of regenerating damaged tissues such as the myelin sheath for the treatment of ALS and spinal muscular atrophy.(24613827)
Cell Infusion Stage

The day after expansion of the enriched Dentachymal and Mesenchymal stem cells (MSC+) they are re-implanted into the patient through basically one of two methods. IV Drip or direct injection. For severe cases or patients with idiopathic conditions direct lumbar injections may be required. Direct injections into the spinal vertebra (in between L4 and L5) under local anesthesia. The patients is advised to stay to get a couple of hours within the recovery space following the direct injection.
ALS Stem Cell Therapy

Number of  Stages in Treatment: 3 Stage process with 2-8 combination infusions of glial restricted progenitors cells (GRP), oligodendrocyte progenitor cells (OPCs), astrocytes and neurons per Phase.
Type of Injections: Enhanced Neural Stem cells from Differentiated Cell Injections given via IV Drip, Intrathecal and/or lumbar puncture per the patients needs.
Physical Rehabilitation: Physical Rehab therapy is optional. physical rehabilitation post-therapy and can be provided upon request for 2-4 hours per day and up to 5 days per week. 
Medical visas and extended stay accommodations at hotel or furnished apartments for the patient and family can also be included upon request.
Comprehensive Treatment for Fighting ALS with Stem Cells
The Regen Center Neurodegenerative therapies used enhanced neural stem cells from our stem cell banking facility. For qualifying patients, The treatment will require a minimum of 2-3 weeks in total. Due to the significant differences and stages of damage our medical team will need to review the potential candidates medical records and eligibility for treatment and travel to Thailand. Upon approval, a detailed treatment plan will be provided that will includes the specifics of the treatment plan that will include: total number nights required along with the total medical related costs and stem cell transplant fees (excluding accommodations or flights). To begin the qualification process for the multi-stage ALS stem cell therapy,  please prepare your recent medical records such as Brain MRI's,CT Scans or PET Scans (Preferred) and contact us today.
Request Evaluation
Published Clinical Citations