Still considered one of the most lethal cancers in the world, Pancreatic cancer is the third leading cause of cancer-related deaths in the world, with an average survival rate of less than 8% making it the only known cancer type with pancreatic cancer life expectancy and survival rates below 10%. Pancreas cancer typically forms in the pancreas (lower part of the stomach) where its primary job is to slowly release enzymes to help aid in digestion and releasing hormones that help humans manage blood sugar levels.
Once it takes hold, Pancreatic cancer usually spreads fairly rapidly to surrounding organs and is rarely detected in the early stages. Early detection is very helpful and for patients with pancreas cysts or hereditary component of pancreas cancer should schedule regular screenings to detect any problems early on.
Biological Immunotherapy for the Pancreas
High-Risk Factors for Pancreatic Adenocarcinoma
Patients who are considered high-risk for developing pancreatic cancer include:
Patients with Diabetes
Previous or Current Smokers
Patients with Chronic Pancreatitis (Inflammation)
Hereditary (DNA)Disposition for pancreatic cancer
Genetic Disposition for Lynch syndrome, BRCA2 gene mutation & FAMMM syndrome (mole-malignant melanoma)
Obesity – Learn about genetic testing for Hereditary Pancreatic Cancer
Elderly ( Over 65 )
Signs & Symptoms Advanced Pancreatic Cancer
One of the early symptoms of pancreatic cancer is diabetes mellitus. Other early warnings of pancreatic cancer include:
Radiating pain in the back or upper abdomen area
Rapid and /or Unintended weight loss
Sudden Loss of appetite
Onset of diabetes
Blood clots
Frequent Fatigue
Jaundice ( Yellowing of skin and whites of the eyes)
Depression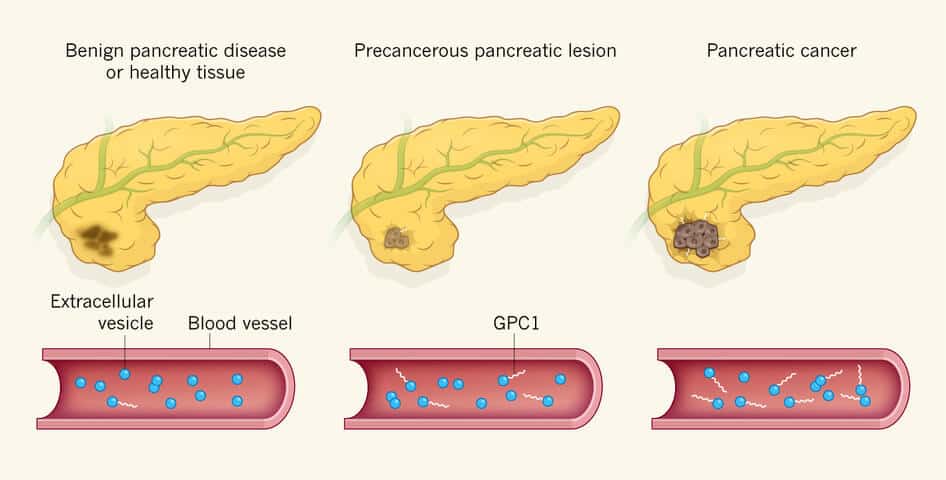 Four Stages of Pancreatic Cancer

Confirmation of the Cancer and is sometimes treatable using radiotherapy surgery
The tumors have spread to nearby organs/tissues and possibly to lymph nodes
The Cancer has spread well beyond the pancreas to major blood vessels and/or lymph nodes
Cancerous mass spreads to distant areas causing lung cancer, liver disease, stomach and/or the peritoneum lining (mesothelioma) and renal failure
Causes of Exocrine Cancers
Cancer in the pancreas results from mutations in the DNA. These DNA mutations cause human cells to grow/divide uncontrollably and to continue accumulating in masses. These accumulating mass of cells form a tumor in the duct lining of the pancreas.[1] This form of pancreas cancer is knowns as pancreatic exocrine cancer or pancreatic adenocarcinoma. In some rare cases, cancer can also form in neuroendocrine cells of the pancreas which irresponsible for the production of hormones. Cancer stem cells that attack this function are known as pancreatic endocrine cancers, islet cell tumors, and pancreatic neuroendocrine tumors.
Traditional Treatments for Pancreas cancer
Functional medicine for cancer and clinical trials with gene therapies are available to patients diagnosed with pancreatic cancer depends entirely on the type of cancer they are diagnosed with, the stage of cancer and location/spread of the disease.
The primary goal is usually to try to completely remove the underlying cancer tumor along with any other cancerous masses in the body. For some cases, a complete surgical resection, Whipple procedure, laparoscopy or distal pancreatectomy is an option however require very early detection and is really only viable to less than 18% of the patients who are diagnosed with pancreas cancer.
Other traditional treatment options include radiation therapy & chemotherapy or a combination of the two but chances of curing pancreas cancer typically depend on the tumor location and severity of spread to lymph nodes. Unlike other forms of cancers like multiple myeloma, pancreatic cancer is much more resistant to traditional chemotherapies and most patients using traditional means ultimately relapse and/or succumb to the effects of the rapidly spreading disease.
TREATMENT PRECAUTIONS & RISKS
cellular immunotherapy is not appropriate for ALL types and stages of pancreatic cancer. Cell-based therapy and options for hematological engineering are limited in many cases. Late stage patients may not be ideal candidates and may be unqualified for the 2-4 week therapy protocol needed.
Functional Oncology for Treating Pancreatic Carcinoma
Old enemy, modern approach – The Regeneration center oncology team take a unique biological-based intervention for the treatment of pancreas, Colorectal cancer, and prostate cancers. The immunotherapies have shown significant advantages when combined with cellular therapies in both early and advanced cases of this disease. [2]
Our integrative approach to dealing with cancers uses a variety of techniques alone or as Adjuvant immunotherapies including:
Immune modulation & Checkpoint inhibitors – T-cell receptors producing an antitumor immune response
Monoclonal antibodies – mAbs
Adoptive cell transfers or Adoptive immunotherapy
Therapeutic Dendritic cell vaccines – Leukocytes that present Antigens to T cells
Cytokines – Interleukin, interferon, and growth factors
Oncolytic virus Therapy to target infects and kills cancer cells
High-Intensity Focused Ultrasounds or HIFU
Cyberknife and Cryosurgery
Photodynamic Cancer Therapy
Internal Radiation Therapy
Electrocautery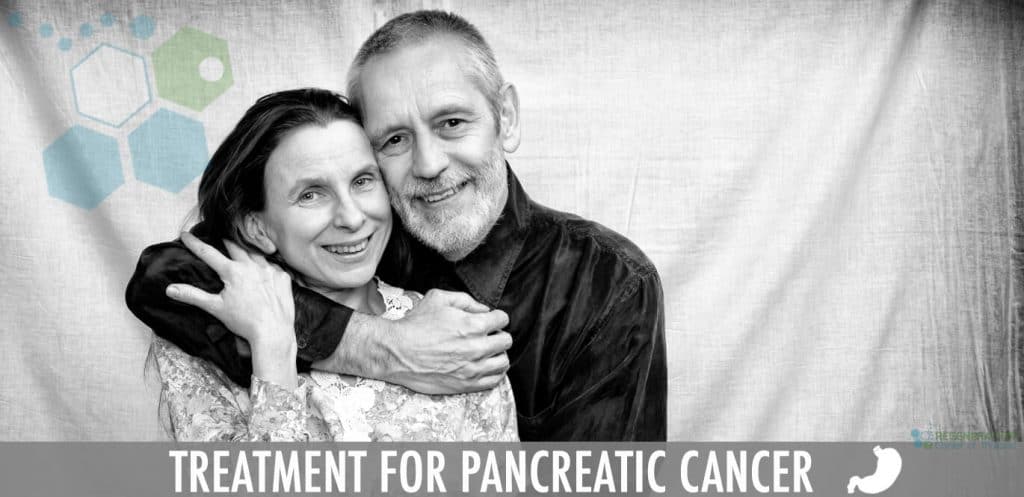 Pancreatic Cancer Immunotherapy
Our team of cellular oncologist have over 50 years of experience dealing with cancers and the immune system. Our holistic cancer treatment protocols offer unique bio-engineered approach without invasive surgery or dangerous side effects. Our cancer team offers an integrative and targeted therapy to attack the tumors, alleviate the underlying symptoms and significantly increase the overall quality of life for any patient diagnosed with the destructive effects of the disease. [3] With or without conventional therapies, our individualized treatment programs offers patients optimal chances for success.
CAR-T cell therapy for Pancreatic cancer
Traditional cancer therapies such as radiation therapy & chemotherapy expose humans to significant side effects and toxicity. Over time, the traditional therapies have not changed but the cancer cells have evolved making them more resistant to the chemicals and rendering these traditional therapies ineffective.[4] This cellular evolution of cancer stem cells is what leads to recurrence and allows them to proliferate much more aggressively than before the chemo & radiation therapies began. Some new pharmaceutical medications have been developed to effectively target and destroy cancer cells with much less toxicity, but the payloads often don't reach the intended destinations and are consumed but the immune system before it can reach the intended targets and tumors.
Modifying Immune Cells to Fight Cancer
Stem Cell Therapy for Pancreas Cancer
Our integrated approach to the alternative treatment of pancreatic cancers, stem cell cancer treatment protocol and NK cell therapies continue to advance further year after year. With new discoveries in pancreatic cancer research, clinical trials for new protocols to more effectively treat stage 1 – stage 4 pancreatic cancer. The Regen Center is a pioneer in regenerative medicine and are able to apply new bioengineering techniques to better manage fatal conditions and to help our patients live a cancer-free life, with minimal toxicity and without fear of remission.[5]
To determine eligibility and treatment opinions from our immunotherapy team we will need to better understand the patient's existing needs via recent histological results, Biopsy scans, blood tests, x-rays, scans, bone marrow sample results and/or clinical diagnosis documents from your primary care oncologist.
Being diagnosed with the big "C" does not have to be the last stand. Even if traditional cancer treatments options have reached their limits, Our team can still offer options that bring you one step closer to gene therapy treatment and living a cancer-free life. We are here to help you and your family get past the disease using safe and research-based alternative treatment options for treating cancer of the pancreas. To learn more please contact us today.
Published Clinical Citations
[1] ^ Kongkam, Pradermchai, Pichit Benjasupattananun, Pongpeera Taytawat, Patpong Navicharoen, Viroj Sriuranpong, Laddawan Vajragupta, Naruemon Klaikaew, et al. Pancreatic cancer in an Thailand and Asian population. Endoscopic ultrasound, no. 1. doi:10.4103/2303-9027.151361. https://www.ncbi.nlm.nih.gov/pubmed/25789286
[2] ^ Grierson, Patrick, Kian-Huat Lim, and Manik Amin. 2017. Immunotherapy in gastrointestinal cancers. Journal of gastrointestinal oncology, no. 3. doi:10.21037/jgo.2017.05.01. https://www.ncbi.nlm.nih.gov/pubmed/28736635
[3] ^ Bengsch, Fee, Dawson M Knoblock, Anni Liu, Florencia McAllister, and Gregory L Beatty. 2017. CTLA-4/CD80 pathway regulates T cell infiltration into pancreatic cancer. Cancer immunology, immunotherapy : CII, no. 12 (August 30). doi:10.1007/s00262-017-2053-4. https://www.ncbi.nlm.nih.gov/pubmed/28856392
[4] ^ Chaiteerakij, Roongruedee, Gloria M Petersen, William R Bamlet, Kari G Chaffee, David B Zhen, Patrick A Burch, Emma R Leof, Lewis R Roberts, and Ann L Oberg. 2016. Metformin Use and Survival of Patients With Pancreatic Cancer: A Cautionary Lesson. Journal of clinical oncology : official journal of the American Society of Clinical Oncology, no. 16 (April 11). doi:10.1200/JCO.2015.63.3511. https://www.ncbi.nlm.nih.gov/pubmed/27069086
[5] ^ Sriussadaporn, Suvit, Sukanya Sriussadaporn, Rattaplee Pak-Art, Kritaya Kritayakirana, Supparerk Prichayudh, and Pasurachate Samorn. 2013. Lessons learned from 100 personal consecutive cases of pancreaticoduodenectomy at a university hospital in Thailand. Journal of the Medical Association of Thailand = Chotmaihet thangphaet, no. 9. https://www.ncbi.nlm.nih.gov/pubmed/24163990
Page last updated: 06 August 2023 | Topic last reviewed: 05 July 2022