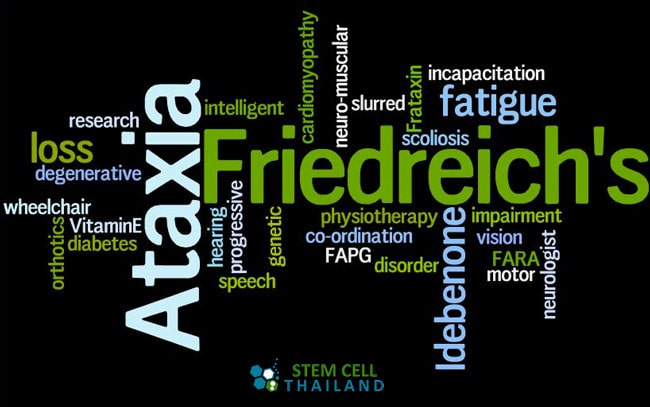 Stem Cell Therapy for Ataxia
Ataxia occurs through a disruption in bodies equilibrium brought about primarily through a lesion in the frontal lobe.
Friedreich's ataxia sclerosis, is another type of Ataxia but Friedreich's is basically hereditary. Lesions similar to those found in multiple Sclerosis can be found from the lateral and dorsal columns from the spine. The lesions generally start during childhood are are accompanied by speech impairment, ataxia, scoliosis,peculiar movements, frequent hypertrophic cardiomyopathy and even paralysis.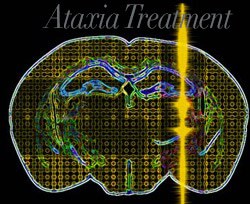 Motor ataxia is the inability to manage the coordination of the muscles. Sensory ataxia is called such because of the proprioceptive area between the peripheral nerves and the motor cortex is lost. This loss results in uncoordinated movements, that becomes more apparent when an individual's eyes are closed.
Ataxia-telangiectasia is a serious progressive form of cerebellar ataxia, that is related to ab-normal eye movements, oculocutaneous telangiectasia, immunodeficiency, and sinopulmonary disease.
Living with Sporadic Spinocerebellar Ataxia Video
       Stem cells Therapy for Ataxia
Stem cell treatments for Ataxia are without a doubt the most promising treatment solution for those seeing the ability to repair/reverse this kind of permanent brain damage. Stem cells are essentially un-specialized cells that can be differentiated into any type of cell or tissue in the human body. Stem cells are unique since they can reproduce themselves and divide indefinitely. Adult stem cells are able to also create specialized cells such as:
Bone
Muscle
Hair
Heart Tissues etc.
The ability to make new cells and tissues in the body indicates clearly that adult stem cells can be used to replace diseased and damaged body