The NYSCF Conference
The Rockefeller University 1230 York Ave New York, NY 10065
212.787.4111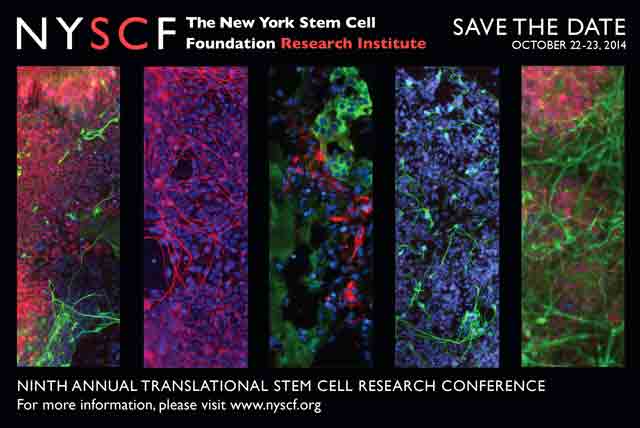 The Annual NYSCF seminar is being held this year in New York. The conference targets translational stem cell research, illustrating the possibility to improve treatments for the serious disorders of our time. It's designed for all professionals with an interest in stem cell research, including doctors, researchers, clinical research workers, professors, government and health officials, postdoctoral fellows and graduate students. The panels were created to reach a broader audience, including the ordinary people.
The New York Stem Cell Foundation (NYSCF) is a non-profit organization whose mission would be to accelerate treatments for the serious disorders of our time through stem cell research. Our plans are concentrated in four regions:
NYSCF Research – Supporting and empowering the unrestricted pursuit of the most advanced stem cell research, both in our own lab and through collaborations with leading medical research associations.
NYSCF Postdoctoral Fellowship Program and Researcher Awards – Supporting and training another generation of scientists, both at the postdoctoral level as Guys, so when Early Career Researchers pursuing advanced translational stem cell research inside their own laboratories.
NYSCF Convention and Symposia – Convening the preeminent yearly translational stem cell research seminar and an ongoing collection of plans for scientists, policymakers, and the general public.
NYSCF – Robertson Prize – Honoring the most important accomplishment in stem cell research annually by a scientist under the age of 40.
In the NYSCF lab, our scientists are running cutting edge stem cell research to treat the serious disorders of our time. NYSCF's expertise in all present individual stem cell techniques to create disorder models provides an essential resource for researchers and clinicians to more completely comprehend the mechanics of disorders. The demand for a specialized environment where to run the most advanced stem cell research continues to be so great that NYSCF's lab has grown tenfold to match the need and is now understood as a leading stem cell research laboratory.
NYSCF supplies direction and critical support for the most complex types of stem cell research and performs and supports translational research focused directly on treating disease. NYSCF supported two of the three most significant breakthroughs in stem cell research within the past several years, for example, creation of the very first patient-specific stem cell lines for ALS (Lou Gehrig's disease) and the successful reprogramming of pancreatic cells. Experiments to create genetic models of types 1 and 2 diabetes, Parkinson's Disease and Alzheimer's disease with adult stem cells are underway in the NYSCF Laboratory.
Stem cell research holds the promise of enabling us to beat among the most difficult issues in analyzing human disorder: comprehending its exact origin.
Our aim at NYSCF will be to better comprehend the underlying reasons for disorder after which to hasten development of more powerful treatments. Our research portfolio comprises the creation of a genetically varied collection of disorder-specific stem cell lines that will enable us to model human diseases and screen for potential drug compounds which can be used to impede or prevent further progress.
The NYSCF lab is among a small number of areas on earth where the technologies to create embryonic stem cells, induced pluriportent stem cells (iPS), and cells by somatic cell nuclear transfer are being developed.
NYSCF works with the leading medical research institutions throughout New York State, America, and around the world to support and empower the most advanced stem cell research. Collaborative projects include research on disorders like cardiovascular disease, diabetes, ALS, schizophrenia, cardiac disorder, Lung diseases like COPD and Idiopathic Pulmonary Fibrosis, Kidney disease, SMA, cancer, retinopathies, and spinal cord injury.
The NYSCF International Stem Cell Array
Building a bank of 2,500 stem cell lines representing the genetic diversity of the United States and the world. This ground-breaking world-wide resource will equalize access for safe and effective medication for EVERYBODY including function populations. This crucial measure between animal testing and human testing will transform drug development by cutting down years of time and billions of dollars now spent on human clinical trials and finally hastening the acceptance of new drugs and treatments by the FDA.
Create Human Disorder Models for Disorder
Creating research teams to handle diseases like ALS, diabetes, cardiovascular disease, cancer, spinal cord injury and neuro-degenerative diseases like Parkinson's and Alzheimer's, and auto-immune diseases including lupus and rheumatoid arthritis. Continuing to pursue seat to bedside translational research that may result in clinical uses.
Drug Discovery Initiative Easing the Development of Safe Remedies
Once disorder models are created "in a dish," we've the chance to examine thousands of little molecules – the building blocks of drugs – against the cells which are directly influenced by disorder. This functions as a vital bridge between academic research and biotech and pharmaceutical companies.
Present Disorder Special Research Projects
Neurodegenerative Disorders of the Brain (Alzheimer's, Parkinson's, and Huntington's Disease):NYSCF is creating iPS cell lines from a variety of varied clinical samples to examine the pathology of neurodegenerative diseases including Alzheimer's disease and Parkinson's disease. Additionally, NYSCF is working to enhance means of deriving human embryonic stem cell lines from cells genetically diagnosed to have Huntington's disease. These lines will be essential as a gold standard to compare other means of creating disorder-specific cell lines.
Diabetes: NYSCF is creating stem cell lines from patients with diabetes using reprogramming technologies. These lines will be utilized to examine genetic and molecular effects in Type 1 and monogenic forms of diabetes. This pioneering research is planned to not only prevent, treat, and heal this disorder that affects countless individuals globally, but to also understand what the causes are that cause it.
Bone Regeneration: NYSCF is using iPS cells and embryonic stem cells to create personalized human bone grafts which are utilized to treat and fix damaged bones. These bone grafts will be patient-unique, preventing immune rejection. This will be the very first time we will have vascularized bone grafts which can be engineered using human cells.
Somatic Cell Nuclear Transfer (SCNT): NYSCF research workers are among the leaders in the little group of scientists on the planet who are developing the ground-breaking technology of somatic cell nuclear transfer. In SCNT, the genetic material or "DNA" of an unfertilized egg is replaced with the genetic material from a patient's cell. If the patient has a certain disorder (e.g. diabetes, Parkinson's, ALS), SCNT would enable the reprogramming of their mature cells into disorder-specific stem cell lines that now carry the patients own kind of disorder. This new technique would supply scientists with tremendous possibility of the study and treatment of many debilitating ailments, including replacing of damaged tissue. The need for this new technology is the cell lines would be genetically identical to the patient, and so would drastically reduce the chance of cell treatment rejection through the body's immune response.