The word "In vitro" Latin translation, is simply "in glass." In modern times this means an in-vitro environment is simply in a test tube or laboratory dish that holds the cell culture medium or substance necessary to perform a culture test or fertilization.[1]
How IVF Works
In vitro fertilization or IVF pertains to the artificial method of uniting the sperm with the egg. [2] In-Vitro or IVF treatments are usually performed in closed system laboratory environment by Stochastic Differentiation and directed self differentiation instead of the "traditional" and natural process that occurs in a human female body.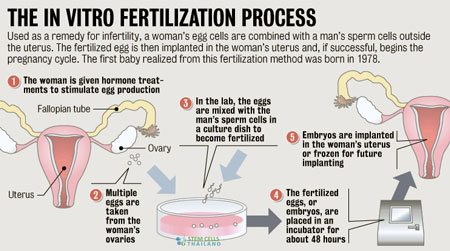 IVF treatments are typically used by families who are having difficulties conceiving. IVF is also a way to clone embryonic stem cells and in genetic Pre-Implementation Diagnosis testing or PGD testing for short. PGD when combined with IVF genetic screening can allow us to screen over 130 know genetic deficiencies and diseases as early as 8 days after artificial conceptions.[3]
Published Clinical Citations
[1] ^ Fauser, Bart C J M, and Gamal I Serour. 2013. Introduction: optimal in vitro fertilization in 2020: the global perspective. Fertility and sterility, no. 2. doi:10.1016/j.fertnstert.2013.06.029. https://www.ncbi.nlm.nih.gov/pubmed/23905706

[2] ^ Iyoke, C A, G O Ugwu, F O Ezugwu, L O Ajah, and S G Mba. The role of ultrasonography in in-vitro fertilization and embryo transfer (IVF-ET). Nigerian journal of medicine : journal of the National Association of Resident Doctors of Nigeria, no. 3. https://www.ncbi.nlm.nih.gov/pubmed/24180141

[3] ^ Jin, Hai-Xia, Zhi-Min Xin, Wen-Yan Song, Shan-Jun Dai, and Ying-Pu Sun. Effects of human cumulus cells on in vitro fertilization outcomes and its significance in short-term insemination. The Journal of reproductive medicine, no. 1-2. https://www.ncbi.nlm.nih.gov/pubmed/23447919