Dear Friends,
The Regeneration Centre of Thailand and the Institute of Asian Integrative Medicine would like to welcome you to the 2nd International Conference on Regenerative Medicine "IAIM 2015". The informative and instructional even will take place on May 30, 2015 at the Thai Medical Association Headquarters in Bangkok Thailand. The first IAIM Conference in 2014 was a huge success and this conference hopes to expand on the previous discussions and will be presenting information regarding unique and cutting-edge medical developments in the application of stem cell research and immunotherapy. Topics will include: cell biology, medical applications and regulations of stem cells.
Popular Topics of discussion will include new developments in:
Clinical trials and practical uses for stem cell treatments
Cancer treatments
Tissue engineering
Cell reprogramming
Regulatory policies in Asian countries regarding stem cell science.
The conference schedule will be as follows:
08.00‐09.00 Registration
09.00‐09.15   Welcoming Address – By Professor Emeritus Dr.Vichit Punyahotra – President of Institute of Asean Integrative Medicine (IAIM)
09.15‐10.00    Overview: "Applying the Principles of Stem Cell Biology to Regenerative Medicine" – Dr.Kampon Sriwatanakul, Chairman of Scientific Committee, IAIM
10.00‐10.15     Coffee Break
10.15‐12.15       Panel discussion on " Therapeutic Potentials of MSC, PRP and Growth Factors" – By
12.15‐13.15        Lunch
13.15‐14.30       Lecture on "Adipose ‐Derived Mesenchymal Stem Cell Therapy " By Dr.Tom Kho
14.30 ‐ 14.45     Coffee Break
14.45 ‐16.30       Panel discussion on " How to Maximize the Efficacy and Safety of Stem Cell Therapy By Other Treatment Modalities "
By Ass.Prof.  Nilarat Premmanisakul,IAIM
Mr. Anthony Lopedota , Director of Ashtanga Yoga Therapy Center,Hawaii,USA
Dr.Kampon Sriwatanakul
16.30 ‐ 16.45     Questions & Answers
16.45‐17.00           Closing Remarks – By Dr.Kampon Sriwatanakul
SPONSORS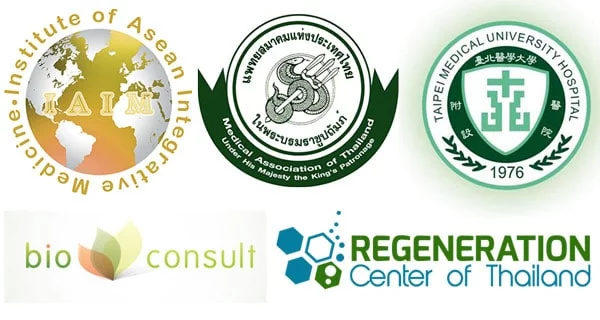 To learn more about IAIM 2015 or to request information about sponsorship or tickets ( Sorry – Tickets are Sold Out – May 26th,2015 ) to the conference please contact us today.