The 2nd Annual Regen Medicine Investor Day is the best known financing event organized specifically for the biotech sector that provides institutional, strategic and venture investors a unique opportunity to gain insight into the top Regenerative therapy companies world wide.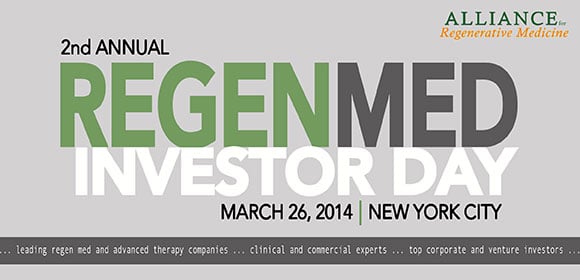 The one-day, event will provide institutional investors and life science analysts with insight from the industry's leading small- and mid-cap companies. With dynamic discussions between key opinion leaders, top analysts and senior executives, attendees will have exclusive access to the sector's leading stakeholders and hear the latest on the medical industry's prominent disease indications. Additionally, some of the most promising companies, both private and puplic, from across the globe will give focused presentations detailing a recent, major data-events in stem cell medicine.
By bringing together the leaders in regenerative medicine with top financial experts and investors, this meeting provides a unique and distinguished forum to explore the latest investment trends and opportunities within this budding sector.
Conference Date:
March 26, 2014
Conference Time:
8:00am – 6:30pm