Starts in 2 Months, 7 Days
September 18, 2020 All Day
UM
43600 UKM Bangi, Selangor Malaysia
+603-8921-5555
International Society for Applied Life Sciences (ISALS) is pleased to invite you to participate in the 3rd International Seminar on Applied Life Sciences (ICALS 2014) to be held at the UKM in Bangi, Malaysia, 18-20 September 2014.This is an occasion for researchers, scholars, students, policymakers and all those interested in life sciences. The significance of this area means that it's important to researchers working in many academic areas, and it's an objective of this seminar to bring together those working in different subjects to support cooperation and further advancement in the field.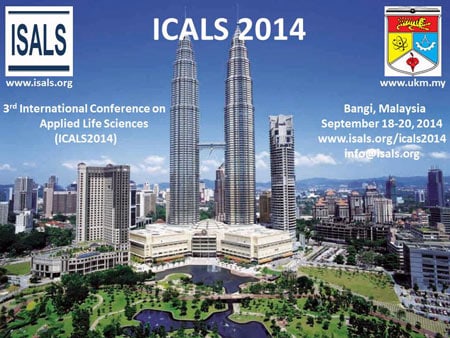 The primary subject areas contain Interaction between:
Environment
Stem cell science
Biology
Agriculture
Computer programs
Life sciences
Social and economic aspects of surroundings
Using biology to undertake environmental & agricultural concerns
Waste water program in green space and agriculture
Biodiversity
Medicinal plants
Urban surroundings
Environmental health
Sustainable development
Environmental pollutions
EIA Environmental Impact Assessment
Health Security and Environment (HSE)
Environmental concerns in local regions
Environmental layout
GIS Geographical Information System
Remote Sensing (RS)
Ecotourism
Submitted papers will be reviewed by scientific committee of the convention.